Well, the trip to Tokyo was good and we got the inside scoop on a lot of stuff. Here is a quick blurb on some interesting things.

Hew Honda HR-V
Honda has released the HR-V for the Japanese market, the possible sucessor to the CR-V. Very nice.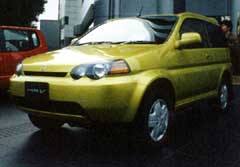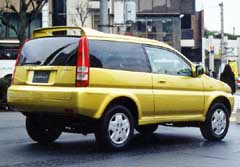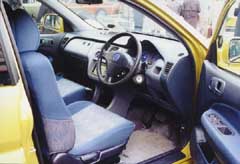 S2000 Hybrid possibilities
We managed to inspect an S200 motor first hand at Spoonsports. The S2000 motor is based on the F20B, the Accord/Torneo SiR engine. This engine is basically a destroked H22A and uses a totally redesigned head to accomodate the reverse rotation of the engine.

Well, the rear drive Honda conversion might not be too far away. Using a S2000 tranny and regrinding cams to rotate a H22A in reverse, a whole new world opens up.

Specs of S2000 F20B
Horsepower - 240 @ 8300
Torque - 21.0kgm (151 ft-lb) @ 7500
Bore x Stroke - 85mm x 88mm
Compression Ratio (JDM version) - 11:1
Displacement - 1997cc
Valvetrain - 16V DOHC VTEC
New Products at Spoon
Spoon has been working hard on a lot of new products. We were given an inside tour of the premises by Ichishima-san himself and he showed us a lot of new prototype products. A preliminary review of their prototype oil pan/girdle can be seen here.

Spoon Sports turned out to be what I imagined and more. They do a ton of research and anaylsis of their products, and a lot of it is computer based.