Well, due to a screwup, I ended up with a JDM 4-1 exhaust manifold which apparently nobody else wanted. After reading this review, I bet somebody will realize they made a mistake. But its mine now!

The manifold is made by Honda for the Japanese market 98Spec Integra Type R. The header consists of 42mm (1.65") primaries and a 57.2mm (2.25") ID collector. The entire header is constructed out of stainless steel and feature mandrel bends. It also has mount points for the factory heat shield just in case you wanted the stealth look.

Installation of the header was not going to be an easy task because of the huge collector/ball joint assembly. The US Honda exhaust manifolds and aftermarket headers all have 1.75" collectors. Since this 98 Spec ITR header was 2.25", it wasn't just going to bolt on. Hence, the thing lay on my floor for 4 months while I figured out how to sort things out.

Luckily I met someone during a race event who put me in touch with a really cool exhaust guy who R&D's for Ford SVO.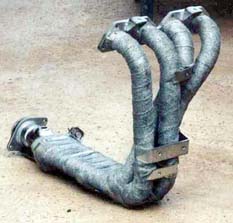 To cut a long story short, the best option I had was to custom fabricate a catalytic converter that matched up with the collector on the header. This was an easy task for the exhaust guy and he pieced everything together.

What did I have in the end? I decided upon a 2.5" (63.5mm) free flow race catalytic converter. This converter features an air injection port just in case you fail emissions and you rig up air injection to clean the exhaust emissions up. The guy did a beautiful job on the catalytic converter. Better still, he agreed to make more while continually improving the overall design.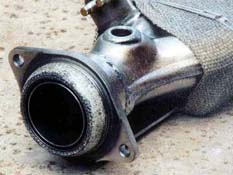 Performance Review
Driving around with the new header is like night and day when compared to the DC-Sports one I had in there. The torque band has widened significantly, and feels smooth and even throughout the operating range. There is now a siginificant gain starting at 4000-5000 rpm where you feel the engine pick up. Beyond 5000, the power gains are even more significant. Since installing the JDM header, I keep driving at high RPM's just because it feels very, very nice.

The cat however is a little buzzy. It sounds like a test pipe and I thought it was due to some rattling. I check around and made some adjustments with no improvement. I took the catalytic converter back to my friend to take a look at it, and he made some changes but the sound was still there. Asking around, we finally figured out that it was a flow related issue; the cat flowed too well!!! Hence, it didn't mute the exhuast sound as much as the stock 1.75" catalytic converters do.

The JDM 98Spec Type-R header feels like a big improvement. Next, I'll be hitting the dyno to get some numbers on how big the improvement is.