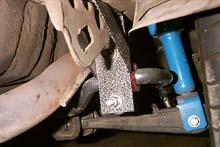 Unfortunately 2" wasn't enough of an extension. Notice the space between the rod welded to the exhaust piping and the sway bar (click for a closer look). The rod is my exhaust hanger. I can't even stick my finger inbetween them. Of course the exhaust bangs into the swaybar whenever I accelerate. Another exhaust extension seems like a good answer, but I will start running into trouble farther upstream. A simple hack would be to cut off that hanger and move it. A better answer would be a properly designed mandrel bent exhaust. But I really need a cheap, less than $20 solution right now. I need to get it on the lift and take a good look.
...days later...
There is no cheap quick fix. I'm going to have to replace the exhaust. Even though I am getting used to the constant banging, its still very annoying, and somewhat embarassing. But damn the car handles great. More on the handling in the next update.
note: for clarification, the ZC engine does not cause any problems with the ST sway bars. A ZC motor equipped with a stock DX exhaust and DX manifold, works great with the swaybars, front and rear.