BTW: My OEM engine, trans., axles, and Jet upgrade ECU are for sale. They only saw Mobil 1 and Honda brand filters since 600 miles, I tried auto-x once with it, and never drag raced it. I actually planned to drive this engine to 250,000 miles until I got the 'hybrid fever'.
Must haves: I highly recommend a Helm factory manual for your car, and the donor car (in my case a Del Sol VTEC manual was the ticket). You also need the CORRECT intermediate shaft, axles from a '94-up Integra or DS VTEC, '94-up GSR or LS shift linkage, slightly modified rear '94-up GSR mount following Matt Blodgett's specs or a new '99 Civic Si rear mount, a/c mount/bracket from a DS VTEC if needed, and also if needed, a p/s pump, bracket and belt from a '92-'93 GSR (if your crank pulley has a V belt for p/s). PLUS, all the recommended fasteners, lock rings, etc. as shown in the factory helms manuals. Special tools: a ball joint puller is nice, an engine hoist of course, and full set of hand tools. Pneumatic tools are nice but not necessary for disassembly. Well, maybe an impact wrench for a few tough bolts.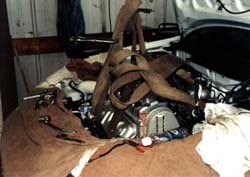 The swap: The whole project came together on Saturday March 30th, 1998 at a farm near my hometown. My dad had picked up the engine from my brother's shop the day before and had delivered it to the farm. The night before I drove my car down and drained the fluids, so the engine wouldn't be hot the next morning. We started early on Saturday and spent the day removing the stock engine, and working on the wiring. We had a major problem there, because there was more wiring than we thought. We worked on it most of the afternoon on Sunday, and had placed the new B16A engine into the bay only to find out the rear mount was all wrong! I used Matt Blodgett's write up to modify the mount I had, but little did I know I needed a GSR mount for my Y21 (Del Sol VTEC) tranny, while I bought an LS one. At that point frustration set in, since I also didn't know about the a/c mount difference between a 'D' series engine and a 'B' series, as well as the front lower tranny mount. DOH!!! AND, the p/s slot on the c
Still not 'bolt-in': After re-working the mount with Mark the next weekend, we found out it STILL wasn't fitting properly. We then went to a metal working shop, and they modified it to exactly what we needed in 20 minutes! Meanwhile I had gotten the shift linkage, axles, front lower trans. mount and intermediate shaft from Jerome Soh and realized that the GSR intermediate shaft did NOT fit! After several emails to Matt Blodgett, he told me to give him a call. There were several differences between Matt's swap and mine, most notably was the fact that he used a GSR transmission, while I had the DS VTEC equivalent Y21 (with slightly better gearing in 1st). At that point I decided to re-pull the engine/tranny and look through the holes in the tranny while I tried to fit in the shaft. The seals cleared fine but the GSR shaft splined area was too large by 1/8"! Therefore Matt's intermediate shaft that fit fine after changing seals, didn't fit A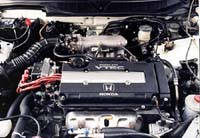 Lightbulb!: So I had a revelation that I needed a DS VTEC intermediate shaft (or a JDM B16A/Y21 shaft). The hunt was on. I started looking 2 weeks after the swap had begun, and it took me 2 weeks to find one! I finally ordered it from a place in LA, the guy even knew that they were different diameters! He shipped it, and after 5 business days, I called him and got the UPS shipping number. I tracked it and it was gone! The UPS rep. didn't have any answers accept, well it may show up! SO, after almost 10 business days (2 weeks) I gave up and the guy said he had another he would send. He did and called me with the tracking number. I tracked it and saw the location scan again in LA, and didn't pay attention to it for another 5 business days. Once again, UPS lost the package. DAMN! Since I had searched for 2 weeks, then messed with the UPS problem for 3 more...I had wasted 5 weeks! Now I had to have a intermediate shaft so I called around for a brand new one and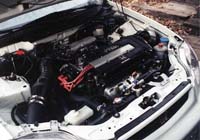 The wiring problems: Jerry and I worked on it in the mornings we could, but we always had conflicts and it took about 2 more weeks to get it all wired up. On a weekend, we fired it up for the first time. It sputtered badly and we found out a plug wire was on wrong! I replaced them with some Del Sol VTEC Magnecors. Then it ran awesome. But threw a couple of codes. We traced them down a few days later and finally got no codes. But then another problem surfaced. After the car completely warmed up, it would miss and stumble badly up to 4,000 rpm's. I spent many hours checking and rechecking the sensors, their output cold and warm etc. I even replaced the plug wires with Del Sol VTEC Magnecors.



Things not to do: Before I figured it out I ended up getting deathly ill. I ended up with meningitis and encephalitis. Not fun. I was on many major narcotics for the pain. Was out of work 9 weeks and spent a total 24 days in the hospital. I was so weak when I was done that I pretty much had to learn how to walk again! That is how I got the short-lived nickname on the discussion board from Adrian as 'Sickboy'. The last week off from work I felt well enough to mess with the car. I finally got in my new NGK plugs (the recommended ones on the side of the engine) BKR6E-N-11's and installed them. I then started it up and let it warm completely up. I drove it around the block and no miss!!! Some bad Nippondenso plugs caused the whole problem I had spent so many hours on!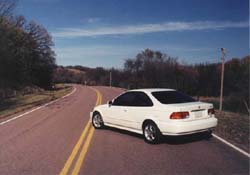 So now I have a hybrid EJ8, powered by the EG6 B16A with 170ps!



Lessons learned: First, as Clyde said right away..."expect the unexpected". Boy he was so right, and it is the best advice I can give anyone who tries a swap for the first time. It took me 3.5 months to be able to drive my car. A lot of that time was spent figuring out and waiting for a correct intermediate shaft (I'm still having nightmares). Also, for the ultimate hybrid performance, a 'heavy' coupe is not the best way to go. I have grown to like the new h/b style, and with hind-sight being 20/20, I would have liked to create my own USD Civic Type R or SiR with my 170ps engine.



The end result: WOW! Why didn't Honda let us have a DOHC VTEC powered Civic before the '99 model year, I will never know. It absolutely WAILS when VTEC kicks in, thanks to the Iceman cold air intake, and it just speaks to you in a primal way. I gave a guy a ride who drag races his Camaro automatic for fun, and he swears I could take him in the 1/4 mile (he runs mid 16's at our elevation of 1500 ft). I might actually try it once next spring. My main goal is to hit the road courses!!! I can't wait to be running with the BMW, Audi and Porsche clubs. And re-trying auto-x, it's a blast and either of these will be great to learn the limits of my car, and most importantly improve my driving skills.



Scott - B16A powered Civic EX coupe/Iceman intake/Borla rear section exhaust/Konig Villains w/Nitto 505's-just added, GC coil overs 350fr/250rr, WOW! What a difference!!! Now getting and installing all 4 Koni's...