In order to try to jump start the early generation Civic's Hybrid potential, I took the liberty of putting together a couple different pieces for the benefit of all. The first is courtesy of Grassroots Motorsports, out of one of their recent issues and does an extremely good job of outlining just what can and cannot be done with the 1G and 2G Civics. The second adds a bit of JDM influence to the mix and comes to us from Southern Australia where a friend of mine has done some wild Turbo conversions on the 1G and 2Gs. I've been promised a test drive if I ever make it down there myself!
So Enjoy!
-e
---
Grassroots Motorsport - March/April 1999 Vol16Num2 - (P.40-41)
"Honda/Acura
The earliest Honda Civics with the 1170cc engine suffer from terminal anemia; while the chassis is decent, the engine is not quite up to the task. Honda bumped up the displacement of the Civic's engine to 1238cc in 1973 by increasing the bore to 72mm. In 1976, the Civic was blessed with a new head that offered significantly larger valves and a domed combustion chamber to match the new domed pistons. This popular big-valve head will bolt right onto the earlier Civics.
Another good trick is to use pistons from Honda's GL1000 motorcycle in any of the early Civic blocks with a 72mm bore. These pistons offered a substantial compression increase without a huge weight gain. With some minor clearance modifications, the crank from a 1980-'83 Civic 1300 can be installed in the early blocks. The additional 6mm of stroke that this crank yields turns the little Civic motor into a torque monster.
If you don't want to screw around with swapping parts, just grab an entire engine. The 1975-'79 Civic engine can be transplanted into an earlier car with a minimum of modifications (mostly mounting hardware).
If the four-speed blues have got you down, fear not. The five-speed transmission from the 1975-'79 Civics will bolt right onto any other 1973-'79 Civic. The hot five speed is the one from the 1975 Civic Wagon, as it has good first through fourth gears with a nice fifth for cruising. The one problem with this swap is that you lose the great 4.93:1 final drive gear that the four speed comes with. There's a solution to this dilemma: just get a final drive from a 1980 Civic 1300 five speed. Coincidentally, this is also a 4.93.
The 1975-'79 Civics are longer and heavier than their predecessors, so they feature heavier springs. The front springs from these cars will fit any Civic from 1973 to 1979. Just cut to the desired length and pop 'em in. For the rear, use Civic 1200 front springs cut to the desired length.
For some real improvements, bolt Civic Wagon (1975-'79) steering knuckles onto the bottom of your Civic 1200 struts. This allows you to bolt on Accord front brake calipers, which are much stronger than the stock Civic units. With some work, the wagon's rear brakes can be adapted to the 1200 Civic. Early Accord front lower control arms also can be fitted to the 1200 Civic for an increase in track.
The early Civic also had the complete wiring harness in place for a tach and auxiliary gauges. Consequently, the gauge cluster from the Civic five-speed can easily be installed in the 1200."
---
Honda City Turbo's and The Beginning of Honda Endorsed Mugen Motorsports.
By Charles Hatcher
Honda has only manufactured one model of turbocharged car (other than Formula1). It's ironic that the car they choose to turbo was the least sportscar like vehicle in the Honda range. The Honda City Turbo was the brainchild of Hirotoshi Honda. Hirotoshi is the son of Honda's Founder. Hirotoshi wanted to prove his ability as a performance specialist for Honda. To prove his point he took Honda's ugliest, most ungainly vehicle and turned it into an aggressive performer that was well ahead of its time (as with most Hondas). He did such a good job his products (MUGEN) were officially approved by Honda for Hondas on the street.


| | |
| --- | --- |
| Honda City Turbos were manufactured in two guises. The City Turbo, basically a standard looking City with a turbo motor and a bonnet hump. The Second City Turbo is affectionately known to the Japanese as the "Bulldog". This model had aggressively flared guards, spoilers and often adorned with wild graphics designating it an INTERCOOLED TURBO II. | Honda City Turbo II |
"The City Turbo was manufactured from 1982 to 1984. The Turbo II was manufactured until 1986. Both models featured a digital speedo surrounded by a Tacho [S2000 instrument cluster, anybody?... -e] so that all relative information could be taken at a glance. The last run of Turbo IIs had a normal speedo/tacho assembly. The motors in both models were essentially the same. An all alloy, 1237cc, CVCC (we'll get to that), turbocharged, multipoint fuel injected motor with a magnesium rocker cover and 8.5:1 compression ratio powered the beast. The Turbo II's were intercooled, had a revised plenum, throttle body and inlet manifold, a larger turbo compressor housing and a slightly raised (8.6:1) compression ratio.
CVCC is a system used by honda to reduce emissions by stratifying the combustion charge. In the City Turbo the throttle body appears much like a carb. However fuel is only applied through one barrel via a single injector (the throttle body has three barrels). A separate set of intake runners provides fuel to each of the CVCC valves located with a combustion prechamber. A rich mixture of fuel and air are added to the combustion prechamber which houses the spark plug. This is ignited and creates a flame front out of the prechamber. The flame front is used to ignite a lean mixture (normally hard to ignite using a spark plug) fed to the main combustion chamber via individual injectors. Apart from decreased emissions and increased fuel economy the stratified charge helps to ward off the killer of many turbo engines, DETONATION. Detonation occurs when two flame fronts collide in a standard combustion chamber. One is caused by the spark plug, the other is caused by the high pressures, friction and shockwaves on the other side of the cylinder igniting an easily combustible mixture. Stratified combustion such as the CVCC system makes the second front less likely to occur as the lean mixtures in the main combustion chambers are hard to ignite.
Performance of Honda City Turbos is really up to the individual owners. The standard Turbo produces 100hp and has a top speed of 179km/h [110mph... -e], the Turbo II produces 110hp and has a top speed of 175km/h (lower top speed due to spoilers and body flares). The braking system is very capable for such a small car. The front brakes are the vented disks and callipers straight off the 1984 Prelude, rear brakes are stock City items.
Modifications. Honda City Turbos can be easily modified for some good results. The filter can be replaced with a high flow item and cold air ducting is already present behind the passenger panel. The filter box can be removed completely and a high flow item put in it's place. A 2 1/2 inch exhaust straight off the turbo will liberate boost and provide a large increase in power. Honda City's have MAP sensed airflow so you don't need to muck about with high flow airflow meters. By the way the City Turbo has twin MAP sensors, one for boost and one for vacuum (MAP sensors did not appear in cars available in Australia until 1990). City Turbo's have a boost cut at about 16psi boost. This must be disabled if you want to run high boost levels.
Raising boost. Because the City motor has a long stroke and small diameter bore there is a small surface area within the combustion chamber. This combined with the CVCC system, the factory flat top pistons and the inherent bottom end strength of Honda motors allow for large increases in power through boost increase. Sources within Honda say tuned correctly Honda motors will run double the factory output without self destructing. That's a big call. Just imagine a series II Turbo with a fresh motor, bigger turbo and high boost with 220hp on tap. That's more than a stock WRX with approximately half the weight. That being said these motors will take high boost levels. That information was provided by some members of the Honda City Club in Japan on stock vs the class 2E Race production city turbos.
Normal Output: 110ps/5,000rpm and 16.3kg-m/3,000rpm
Change camshaft and increase boost from 0.85 to 1.63kg/cm2
Equals an uprated output of 138ps/5,000rpm and 22kg-m/3,000rpm
[For those that don't realize this, 16kgm is the standard B16A torque output,
22kgm is on par with the full race Spoon Sports 2000cc engine!!... -e]
This car will now do the 1/4 mile in 13.5sec!
I don't know about you but I think a 13.5 second 1/4 is pretty good, especially for a car designed for the track. I cannot guarantee the accuracy of the performance figures.
Any objections, queries and part enquires can be directed to me. If anyone has any parts or cars for sale I will drop it onto my database and might be able to help. Anyone requiring new honda city turbo factory parts can also contact me."
---
So what did my friend Charles do for his car? Here's the emails I've received from him regarding his swap of the '83 Turbo II engine into a '76 Civic.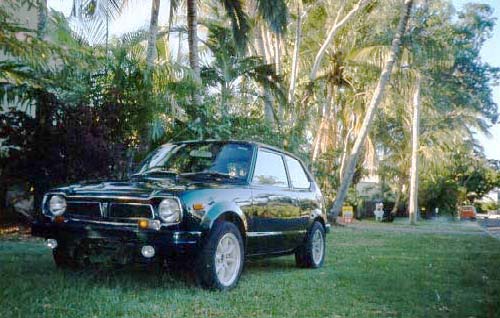 "I have an early civic with a City Turbo motor in it. I have owned several City Turbo II's. In Australia they cost about $4500 fully complianced (US$3000). If you are an Australian and you go to Japan and own a car there for at least 3 months you can bring it back and own it with no tax or compliance.
The swap is relatively easy (mechanics wise), the motor practically bolts up to the standard mounts. The conversion of a 76 wiring loom to fuel injection is not as easy but once done is a terrific improvement over standard. These motors can put out 160hp with subtle mods and take huge boost levels (standard is 12psi factory non-intercooled)).
I have done 3 of these swaps and I showed a friend how to do it and he has done another 2.
One of my friends suggested I speak to Mugen or one of the tuners in Japan as there used to be a race class of City Turbo's. There were many tuners involved and some of them may have fully prepared race motors sitting about gathering dust.
However this was ten years ago."
On that note I sent Charles all the contact info I had for the major tuners in Japan but to this day nothing has come of it. Neither him nor I have been able to dig something up. Not surprising since ten years old in the Japanese automotive world is nearly unfathomable.
Charles did offer to sell me a complete swap including engine, turbo & intercooler, tranny, axles, wiring harness, and ecu for a paltry US$1200 but at the time I wasn't able to raise the funds. Charles was in the process of selling it then to fund the transfer of a CivicR drivetrain into his '95 Civic Vti hatchback - Australian equivalent to the JDM EG6 SiR. So now you all know that this is possible, and what is needed. I am stilling looking for a decent early Civic chassis for my future Turbo II project but to date have lucked out. Two possible cars, one S500 hatchback and one first generation Civic have already slipped through my fingers. Perhaps if someone comes across another you'll let me know?
-e