Since IAS 99, Civic Sis have flooded the streets, and the much anticpated S2000 is here. However, other than those two, the Honda performance world has changed only a little. As AT and I cruised through SEMA it was obvious that the domestic manufacturers still dominate, because they had the biggest booths. The big import booths focused on big body kits, big wheels, big shiny exhausts, crazy paint and interior. To see the good stuff from the smaller companies, you had to travel deep into the dark corners of the South Hall. Meanwhile, the S2000 has replaced the Civic Si as the darling of the import aftermarket, most of them probably being bought well above sticker price. But rumours were floating that Ford had paid companies to put a Focus in their booth. Most of the products were the same as those shown as "New" last March at IAS. A few new products were exciting enough to be worthy of capturing on my crusty, old digi-cam.
Suspension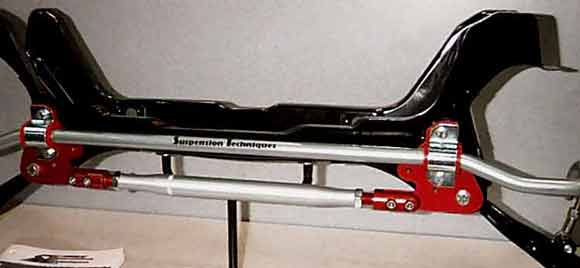 Suspension Techniques new rear lower strut bar is not only stunningly sexy, it is a solution to one of the increasingly more common Civic/Integra suspension failure modes. As Geeser's website so graphically shows, and many others can attest, the rear sway bar mounts can brutally be ripped out by a big rear sway bar. The red metal brackets reinforce this area. Connecting the two brackets together to form a lower strut brace is brilliant!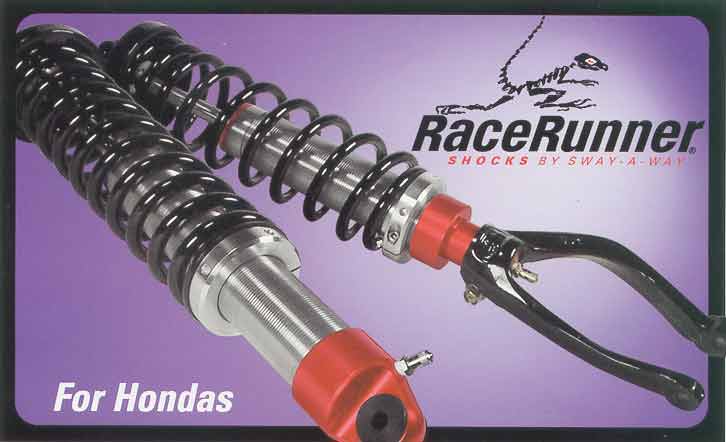 RaceRunner shocks by Sway-A-Way:

Fully threaded, fully rebuildable with an almost infinite number of valving combinations. The shock body is a full 1" shorter than stock allowing extreme lowering with travel. Accepts standard 2.5 coils like Eibach ERS. Price is about about $500-600 for all 4.

Cusco Carbon Fiber strut bar for EGs and EKs. It uses a very large diameter CF tube, and is light weight and stiff.
Lightweight wheels are hard to find especially with the fashion driven popularity of bigger and bigger wheels. Some new and some previously vary rare wheels were prominently displayed. Choose your favorite.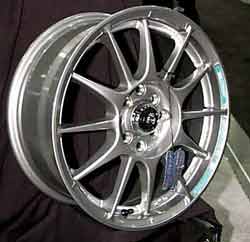 SSR TYPE R: New SSR wheel is called the Type R wheel. This version was a 4x100/4x114, so its not intended to be specific to the Type-R. In a dark silver, white and gold. 12lbs (15")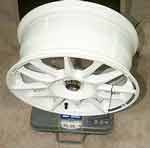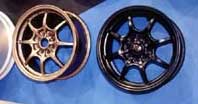 Rota Circuit 8s in bronze and satin black, but these are in the Konig booth. Note the Rota cap still glued to the wheel! 12lbs (15x6.5)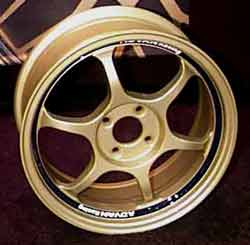 Advan RG: White and Gold both with a dark blue lip. Lightweight 10.5 lbs (15x6.5)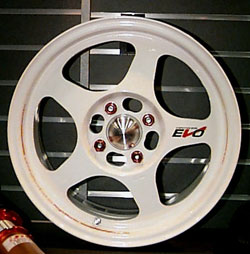 Desmond RegaMaster Evo: The essence of the functional wheel. Same wheels as the Spoon SW-388. 9.7lbs (15x6.5)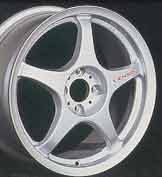 Lenso VPD: Good looking wheel, that's not too wild and not to plain. 12lbs (15x6.5) Also comes in 16 and 17"

For slick use only they have a 13x7.5 +25 9lbs "Tom Slick".
Transmission
3 LSDs you may or may not have seen. The new players on the scene to challenge the all powerful, and expensive Quiaffe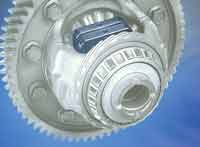 Phantom Grip: Two metal plates held apart by springs, drops in your existing differential. MSRP is $299.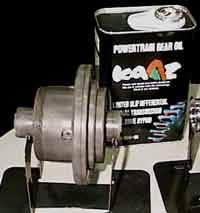 Kaaz: Clutch type LSD, rebuildable and adjustable friction by changing clutch plates. $800-900.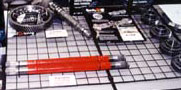 Kaaz: Close Ratio Gear Set for road racing and Final Drive Set. FD of 3.5 for Drag (1st gear drops to 2nd), and 4.066. Both designed to compliment the Gear Set. $2000-2300 for gears, $800-900 for FDs.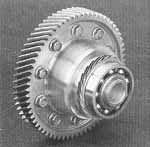 Progress Prodrive: Locking differential. Not really a limited slip, because there is no slip. It is either locked or unlocked. In a straight line, it locks both axles together, like a welded diff, or spool. When the steering wheel is turned, it unlocks and transfers full torque to the axle with the most traction. $1200-1400
Engine
Jackson Racing: Jackson was displaying their H22A supercharger kit. The kit uses an elaborate pulley sytem to connect the blower to the crank. Does it fit on an H22A installed in a Civic? You will have to take a look and figure it out for yourself.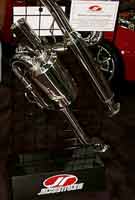 Also in the Jackson Racing booth was this knock-off of the Mugen double pass thru muffler. Sure is shiny.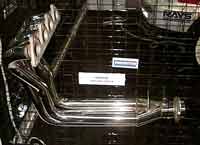 Tanabe: Prototype Integra Type-R header. 4-1 with the big JDM exit, not the puny US exit.
Parting shot... This is just about how my S2000 would look...(minus the Comptech sticker)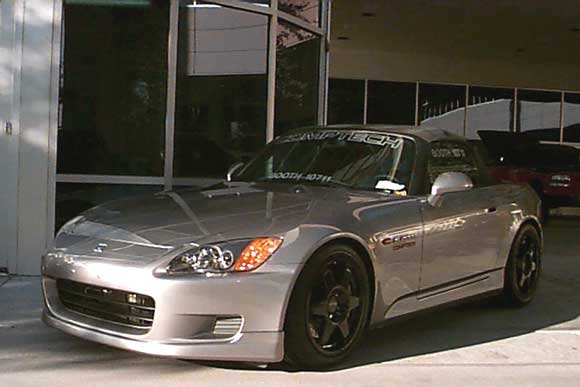 If you missed this year's SEMA don't be concerned. We were underwhelmed. Import Auto Salon was a better show. The layout is better, more companies with good products that can't afford SEMA, and simply more import/Honda oriented. Check out SEMA for more information about that event, and see you there.